1.
Roadies
can count and remember lots of complicated numbers. Lighting Roadies ("
lampies
") frequently walk around for days with the
DMX
channel numbers for an entire show in their heads, ready to recall them at a moments notice.
There is a common misconception that Sound Roadies can only count to two, however this ignores the fact that they have a mental ledger dedicated to remembering who paid for what at the last petrol station. Tour manager Roadies are good at hotel room numbers and if you were to tell Merchandise Roadies to mind a country's finances, they would guard them with their life.
Politicians have a tendency to forget and confuse numbers and, when they remember them finally, add extra zeroes at the end.
2. Roadies don't mind working in the summer. Unlike politicians, roadies will gladly work in July and August. In fact, roadies will work over Christmas also. Another fact; a holiday for a roadie is a late start in a hotel bed. Any longer and it is unemployment.
3. Roadies are always on time. If a Stage Manager Roadie says something will start at this time and finish at that time, it will. With seconds to spare.
4. Unlike a
former Irish Taoiseach
(Prime Minister), Roadies would never mix up "smoke and mirrors" with "cloak and daggers". Smoke and mirrors combined can create stunning visual effects and is best left to Lampies. Smoke and daggers combined means a meeting between the props and lighting roadies, which could take days, usually resolved by the Stage Manager Roadie. (see 3 above)
5. Roadies dress better than politicians and have better hair.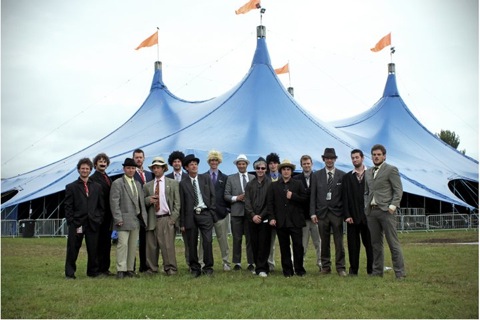 6. Roadies can and will give a straight answer to any question in their particular area of expertise. Even the boring ones, such as "do you do this for a living?" or "do you know the band?" will get a short, straight and perfunctory reply. If they don't know the answer to a particular question, they will helpfully point you in the direction of the person who knows everything – the truck driver.
7. Unlike a
present Irish Taoiseach
, Roadies have remarkable and unequalled constitutions that allow them to stay up late discussing the happenings of the day yet be capable of fulfilling their duties the following morning.
8. When a Roadie breaks something (and it does happen occasionally), they will, unlike politicians with an economy, fix it. And they will fix it on time (see point 3 above). If a Roadie breaks something and can't fix it, they will at least have the decency to make an
amusing video
about it.
9.
Like politicians, Roadies make lots of friends in tents in the Summer.
However, unlike politicians that does not mean that they will take their money and make lots of unrealistic promises to their new friends before asking the audience to foot the bill in a few years time.
10. Finally, Roadies are resourceful. For example, watch how Roadies can
open a bottle of wine with a shoe.
11. Because only Roadies know there will be one more.