Commercial Audio Solutions
09/12/11 20:17
As followers on Twitter may be aware, we have a large number of systems out for various Christmas markets around the country at the moment. Some of which are using 100v line horn systems to cover wide areas as public address/emergency evacuation systems but also to carry background music.

The nature and physics of the traditional 100v horn dictates that the musical bandwidth of the horn speaker is limited and although there are better 2-way horn speakers now available which stand up to the challenge of a full-range sounding speaker, budgets dictated otherwise.

So to provide a system more suited to background music in conjunction with the horn speaker system, I incorporated several 100v or "constant voltage" 2 way speakers into the system design. These would be located closer to head height than the horn system, in areas around the market where people congregate such as near Gluehwein, coffee or Hot-Dog stalls.

The speakers we used were older (and yes, quite cheap) 6.5" speakers that had done their time and already provided a good financial return. The speaker terminals were protected to a degree from the elements using a cut-out PVC junction box glued to the cabinet using Sikaflex adhesive/sealant which was a substance I use in repairing the motorhome.

By selecting a low watt tapping, we were able to integrate them into the horns located nearby. The horns provide the mid cut or "bark" with the 2 way speakers adding bass and some treble fizz. Now it's not hi-fi by any means but the combination is certainly easier to listen to than horn speakers alone.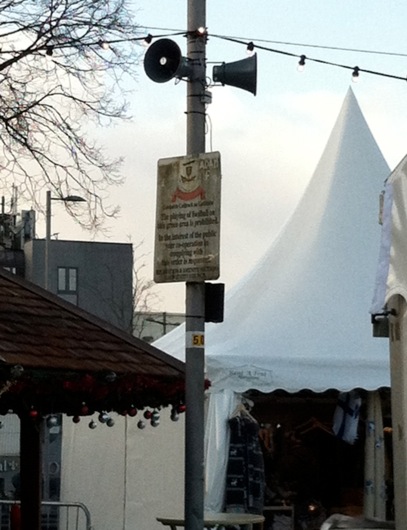 6.5" 2 way 100v speaker rigged below a pair of traditional 100v horns. The 6.5" speakers aren't hi-fi but make background music at this Christmas Market sound a bit better around hot-dog and mulled-wine stands.
14/01/11 10:52
Car roof loudspeaker

Roof mount horn and amplifier


If it's election time, hustings, advertising this simple system will get your message across. Plug into the cigar lighter of your vehicle and fit he horn loudspeaker to your roof and you have a powerful promotional tool. When you are finished, unplug, remove the roof speaker and your vehicle is back to normal.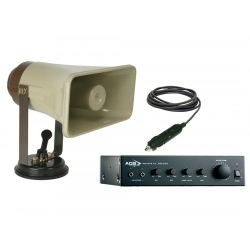 Buy for €340 (inc VAT)
Hire for €30 per day (inc VAT) or €120 per week.
Call us on 091 789848.
10/10/10 11:53
It's challenging times for the retail sector as we know. Recently, we've been regularly providing a range of compact audio solutions to a major retail chain as they seek to increase shop foot-fall and sales.

By giving informal showcases, workshops and style tips on a frequent basis, Brown Thomas in Galway offer a value-added extra to their customers. Professional make-up artists can display techniques as well as giving product demonstrations. Fashion labels are able to show-off their incoming looks for the season as well as giving tips for garment co-ordination and so on.

From our client's point of view, the main issues are that the sound system be capable of competing with the background noise of a busy shop-floor and that the system itself be easy to control by management, be neat and be visually aesthetically pleasing amongst the product lines on display.

To this end we supply a single QSC K10 active system, controlled via a ZED10 Allen & Heath compact mixer. The K10 is easily mounted on either instore shelving units or discreetly on a stand and the tiny footprint of the ZED10 is easily tucked away to be sufficiently accessible for staff but away from curious customers. Microphones comprise a selection of handheld wireless mics or beltpacks with headsets, allowing handsfree use where required. All wireless systems are Sennheiser G3 series, which offer quick frequency scanning, tuning and superior battery life.

Systems are easily moved at short notice between departments and are easily operated by shopfloor staff once setup in advance by a technician.

From an initial 4 week hire period earlier this year, the store has decided to double the amount of systems in the store and extend the hire period to 12 weeks for the autumn season. Management cite increased footfall as the easily identifiable benefits of these workshops and product demonstrations. Also, these free seminars offer Brown Thomas a competitive advantage on the high street in attracting sales.

If you would like to know more about a competitively priced commercial audio system, whether permanently or temporarily installed, and how it can benefit your retail operation, please contact us on 091 789848.