100V Line and Commercial Audio Installation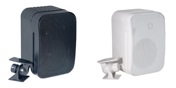 In conjunction with ADS Worldwide, Alex Fernie Audio has entered the commercial audio installation market with a range of cost effective audio solutions.These systems are aimed at any commercial, educational or community enterprise looking for a high-quality paging and background music system at an exceptional price.

Our range encompasses speaker systems for every conceivable environment:

vandal and water proof for the outdoors
explosion and fire-proof for industrial buildings
underwater speakers for swimming pools, health & seaweed spas, steam rooms & saunas.
wall or ceiling mounted speakers for building interiors.
We also have a range of horn speakers for temporary street festival installation.
Finally we stock a fully-rated range of voice alarm systems.
The links below provide some information and pricing on our best-selling products. For a detailed installation quote please request a quote via our
contact form
or call us at +353 91 789848.
60 Plus amplifier
3120 Plus 2 -Zone amplifier
Maestro Speakers
Omega 6 Ceiling Speakers